GBP/USD Upward Trend Reaches 5 Year Highs
Tom Tong • 16/Apr/2014 • Currency Updates
BACKGROUND
Sterling has been consistently appreciating against the dollar since the three year lows of mid-2013, as macro data continually comes in to the upside of expectations. The rapid apparent recovery of the UK economy was encapsulated recently by the UK featuring at number one on the IMF's G7 growth forecasts for 2014. This, coupled with the US economy's recent weather-related troubles, has put the UK economy, and thus the pound, at the forefront of global markets.
DATA PROGRESSION
The biggest driver of sterling strength thus far has been the two major pieces of macro data, unemployment and GDP. Up until February 2014, the Bank of England (BoE) has largely been guided in its monetary policy by unemployment, suggesting that any increase in interest rates would be considered if and when UK unemployment hit 7%. As that figure was slowly approached – see figure 1 – sterling has strengthened across the board, with markets taking positions based on an increase in the base interest rate. As the BoE moved away from relying solely on unemployment as forward guidance, other economic indicators became more relevant, and none more so than GDP. The UK economy has seen growth accelerate since early 2013 – see figure 2 – which again has lent support to the pound.
Figure1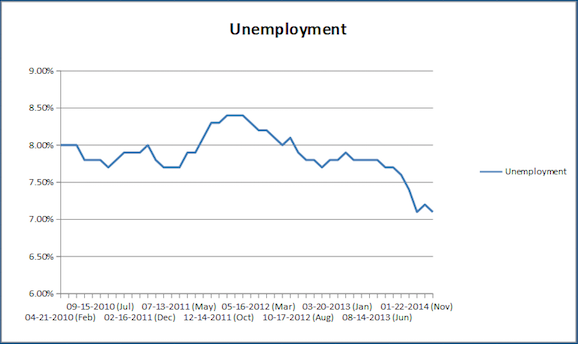 Figure 2
CURRENT SITUATION
GBP/USD is currently trading at around 5 year highs. The catalytic data release was a 3 month unemployment measure from The National Statistics, which came in at 6.9%, which is under expectation and, crucially, under the pivotal 7% threshold. We also saw strong UK production growth in the second week of April, which has started the recent positive trend. This positive data has provided the impetus needed to see the pound reach market highs against the US dollar, which have not been seen since mid-2009.
Print